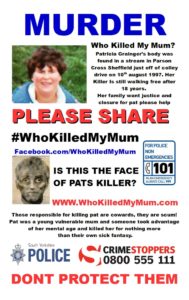 Who Killed My Mum?
Patricia Grainger's body was found in a stream in Parson Cross Sheffield just off of colley drive on 10th august 1997.
Her Killer Is still walking free after 18 years.
…
Her family want justice and closure for pat please help.
PLEASE Share
Those responsible for killing pat are cowards,
they are scum!
Pat was a young vulnerable mum and someone took advantage of her mental age and killed her for nothing more than their own sick fantasy.
Despite extensive inquiries, police have been unable to trace the scruffy-looking man, seen in the early hours of Sunday, August 10 1997 around the time Pat Grainger was stabbed and strangled near her Parson Cross home.
He was seen in the Collinson/Adrian Cresent area, close to the brook where Pat's body was found hidden under rubbish.
A woman was so intimidated by the man's behaviour that she dared not walk past. He was fidgeting with his hands in his pockets and stared coldy at the woman before walking off..