As you may know My mum was murdered when i was 5 years old I couldn't defend my mum as a child and I couldn't get my head around what happened to mum until I was older. Had I been older I wouldn't have let it get to this point without something been said and done about it.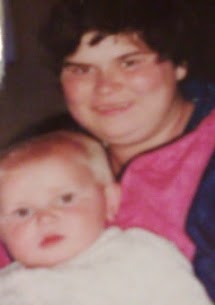 Me and Mum
When i was 16 I started by launching the website in June 2008 i didn't have much knowledge about what happened to my mum, i didn't have any support or communication from South Yorkshire Police i never did prior to the website being launched. I learned more the more i read articles printed about my mum,
A month after starting the website i went to the star newspaper as i was advised by a friend this sparked a huge interest by the media lets say i got to learn the good side and the bad side of the press but to me the press were more helpful than the police.
They did what i wanted the police to do they got the message out that there is still a murdered out there and he's still walking our streets but at the same time we had a lot to deal with my Nan was diagnosed with lung cancer, we was told she didn't have long left to live and it was hard to come to terms with especially when my heads just coming to terms with the sadistic things i learned about what happened to my mum and my determination to find those responsible not only for me and for my mum but for my nan i didn't want her to die, but even more so not knowing who killed her daughter but my nan died naturally so i was able to somewhat grieve,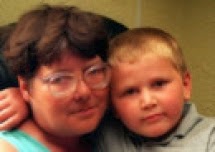 Nan and Me
I can't say I have finished grieving for nan as i still do but i live in comfort sometimes believing she's being looked after by mum up there in heaven but in another thought I'm thinking about the horrid things that happened to my mum that the person/s responsible have got away for, for 18 years and its not right.
This person/s are evil they beat my mum, they hurt her, they raped her, they took a young vulnerable woman took advantage of her gentle nature and tried to kill her in more ways than one, strangulation, drowning, stabbing multiple times either would have been enough but because of the brutality it is not known which act actually killed my mum to do this to another human being is unthinkable and those responsible need to be brought to justice i try to get it out there as much and as far as i can but I have got to be honest i don't feel like I have much fight left in me.
The police aren't willing to provide the resources for the current investigation to develop any faster or for appeals such as crimewatch so all i have is the hope of the website/facebook/twitter appeals will bring us what we need in order to find those responsible.
The last appeal made by the police was in April 1999 between then an now other than backing of off my campaign articles i cannot say they have done much as far as appeals go.
Unfortunately the police have lost/destroyed what possessions and clothing was left of my mums, so other than a few photo's I have little to remember my mum so the only comfort i have is hope that one day those responsible will be caught for what they did.
I need closure, my family need closure and its draining what's left of our lives not knowing, not being able to see justice for mum those responsible are not going to hand themselves in after 18 years so if anyone is reading this that might have some information regardless how small it maybe to message either myself, contact the police or crimestoppers and if you don't have any information i kindly ask you to share this post in the hope that someone who does know will see it.
The below are confirmed and possible sightings of my mum prior to her murder during the week she was missing.

Thursday 7th August 1997 – Confirmed Sighting at Nothern General Hospital.

Saturday 9th August 1997 – Possible Sighting – a man was seen talking to Pat about 12 hours before she was last seen alive. She was chatting to the man at about 7:45am at the junction of Holgate Crescent and Holgate Road on Saturday August 9. The man was white, aged about 30, five feet six to eight inches tall with dark hair, greasy or gelled.
Question's we'd like answering if anyone can help are.

Did anyone see her in or around the Northern General Hospital?
Where did she stay its still unknown where she stayed for the week prior to her murder but she must have stayed somewhere.. please come forward if you let my mum stay at yours in august 1997, if you haven't done anything you won't have anything to worry about just come forward now.
And could anyone who has already told the police they have seen her and/haven't told them and don't want to speak to the police could they contact me either via the website or via my facebook page so i could try put together some possible timeline of the week prior to my mums murder. Thank you
Is this the face of Pat's killer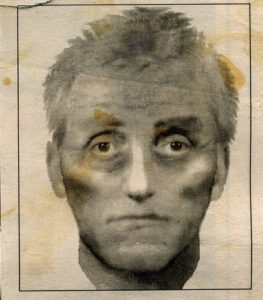 Man police are still trying to locate. Do you know this man? Please contact the police.

Despite extensive inquiries, police have been unable to trace the scruffy-looking man, seen in the early hours of Sunday, August 10 around the time Pat Grainger was stabbed and strangled near her Parson Cross home.

He was seen in the Collinson/Adrian Cresent area, close to the brook where Pat's body was found hidden under rubbish.

A woman was so intimidated by the man's behavior that she dared not walk past. He was fidgeting with his hands in his pockets and stared coldy at the woman before walking off.. View full article
Did you see this man or anyone else acting suspiciously around parson cross and hartley brook around the 10th of august 1997?

If you can help with anything please get in touch via the contact page or click how to help if you'd like to contact the police.
Justice for Murdered Sheffield Mum 25-Pats life was cut short help find her killer RT https://t.co/xRyFbu2Yc0 @HelpSheffield #whokilledmymum

— Who Killed My Mum? (@WhoKilledMyMum) October 21, 2015